After much consideration and discussion with the AusSTS advisory committee, we have decided to postpone the June 2020 AusSTS Workshop until July 2021.
We're incredibly disappointed that we won't be hosting you all in Darwin this year, but with so many uncertainties still surrounding COVID-19 and its impacts, this seems like the right decision to make.
We're prioritising the health of everyone who would be travelling to Darwin, as well as communities here who may be affected by introductions of the virus. We're also being realistic about shut-downs around travel and conference funding being experienced within universities across the country.
Postponing until July next year means that we will again catch the Darwin dry season, and we're committed to making the event next year just as good, if not better, than it would have been this year. We very much hope you'll join us then.
For all accepted presenters, we're happy to offer you precedence if you are keen to attend in 2021. And for all registered participants, we'll be in touch to arrange your full refunds of the workshop fee. Obviously, refunds around travel and accommodation are beyond our control, but we have heard that many providers are being understanding about coronavirus-related cancellations.
We would still like to hold a smaller online event in early July and we'll be approaching keynotes and workshop facilitators to see what might be possible. This would be an initiative of the broader AusSTS organising group, and could also involve other online events (reading groups, seminar series etc). It seems we'll all soon be looking for ways to stay in touch while practicing 'social distancing', so opportunities for continuing to connect through AusSTS may be increasingly welcome.
Please be in touch if you have other questions, otherwise stay tuned for online events to follow.  We look forward to seeing you in Darwin for AusSTS 2021!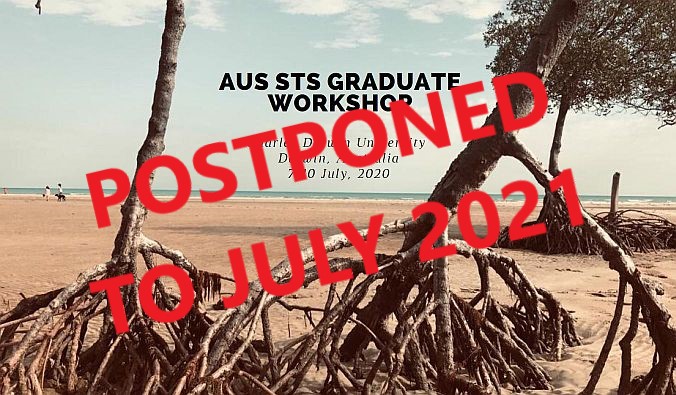 Proudly sponsored by
Australasian STS Graduate Network (AusSTS)
Science and Society Network at Deakin University
TopEnd STS and the Northern Institute at Charles Darwin University
Research School of Social Sciences at ANU
Biopolitics of Science Research Network and School of History and Philosophy of Science at University of Sydney
Environment and Society group, School of Humanities and Languages, UNSW