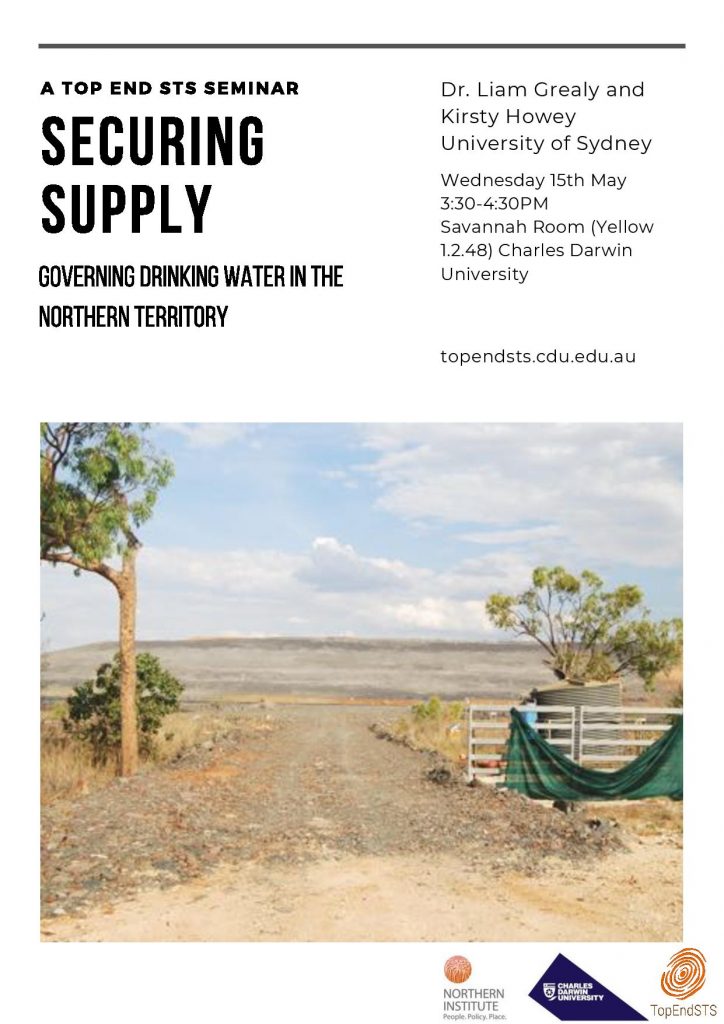 SECURING SUPPLY: GOVERNING DRINKING WATER IN THE NORTHERN TERRITORY
Wednesday 15 May, 3.30-4.30pm
CDU Northern Institute, Savannah Room, Yellow 1.2.48
SECURING SUPPLY: GOVERNING DRINKING WATER IN THE NORTHERN TERRITORY from Northern Institute on Vimeo.
ABSTRACT:
This session reports on work by the Housing for Health Incubator at the University of Sydney. We will provide a brief overview of the Incubator research program, including how this is informed by a partnership with the not-for-profit Healthabitat, our focus on repairs and maintenance, and the social infrastructure we've attempted to develop since early 2018. Our consideration of housing "health hardware" has encouraged attention to the intersecting infrastructures on which healthy housing relies and the webs of regulation that seek to govern those infrastructures. Specifically, this paper considers NT drinking water regulation in the midst of the "Northern Territory Water Regulatory Reform." Responding to water contamination events at Borroloola in April to June 2018, and elsewhere, the paper outlines the available protections for drinking water supply in the NT. We consider the necessity and limitations of regulatory reform, in a context where water management has to contend with land tenure complexity, aquifer uncertainty, and ageing subterranean infrastructures.
ABOUT THE SPEAKERS:
Liam Grealy is Postdoctoral Research Fellow in the Housing for Health Incubator at the University of Sydney.
Kirsty Howey is PhD Candidate at the University of Sydney. She was a lawyer at the Northern Land Council for 10 years, and is a current board member and former Chair of the Environmental Defenders office (NT).
Download the POSTER for public display, or the FLYER to email (includes abstract)
VIDEO