By Jennifer Macdonald and Michaela Spencer
As Tess Lea sat next to a life-size crocodile on a stage overlooked by a colourful Aboriginal artwork, she evoked a Darwin through the popular narratives with which it is so often imagined: crocs, cyclones, unlimited road speeds, bare feet, no suits and no bras. At the same time, however, she implored us to stop imagining only a love letter to Darwin and to recognise our isolated home for its complicated multitudes. This daydreaming, Tess argued, hides the true nature of this town even from itself and we should recognise it for what it really is – a cleverly camouflaged garrison town and Australia's most militarised city.
This is well-worn ground for Lea. In an article for the Guardian in March 2014, she argued that by hiding our own nature from ourselves, we avoid debating difficult questions. Readers were left with several provocations: What does being a subordinate ally to a military force clinging to its global primacy commit us to? What are our liabilities and responsibilities? At what point do Australian sovereign interests diverge from America's security objectives? And what are we prepared to do about it?
And so here we were, seemingly just as perplexed in 2019 by the questions Tess had been grappling with five years previously. The present conversation was happening through Tess's seminar 'Darwin: Redux – From boom to bust to…? A conversation with Tess Lea', the third seminar in the Top End STS seminar series. Top End STS is a group of scholars and practitioners who are based in northern Australia and share an interest in STS research and sensitivities. The group is supported by the Northern Institute at Charles Darwin University, and current members have links to a variety of institutions, including the Australian National University (ANU) through the North Australia Research Unit (NARU), the Stockholm Resilience Centre, the University of Melbourne, and Sydney University. The organisation of the seminar was spearheaded by Top End STS member and Sydney University PhD student Kristy Howey and the conversation was expertly chaired by Samantha Wells from the Northern Territory Library.
The stage with the life-sized crocodile was in the Lucky Bat Café and Pizzeria in the northern suburbs of Darwin – a malleable space that is as much cosy restaurant as it is watering hole, freelance office, art gallery, music venue, and conversation host. Owned by locals Danny Crichton and Justin Schmidt, it seemed apt to host a conversation about what Darwin was, is and might become in a local business that appears to be thriving during an economic downturn where other Darwin cafés, retail stores and even the CBD's only cinema have closed their doors.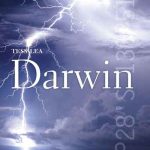 The audience were invited to add to Tess's lens of Darwin as Australia's most militarised city, as she gathers material to write a forward to her book 'Darwin' for its forthcoming reissue in paperback form. We danced around an array of topics, including: the recent rollout of 'smart technology' to build either a 'safer territory' or a surveillance state; the high rate of Indigenous people incarcerated in prisons and juvenile detention; delusions around the use of water in Darwin because of a misplaced belief in our location as in the 'tropics', not the 'tropical-savannah'; the possibilities and constraints of Darwin as a 'creative city', with its unusual demographic profile and unique natural environment; and the need to embrace discomfort in order to survive and thrive in Darwin.
In addition, participants were asked to send questions to an email account we set up before the event. This was to spark ideas as we continue exploring these provocations in the future. Issues raised included:
How is it that Darwin often seems caught in a comparative game? When we consider our particularities, we are rich. But when we imagine ourselves as needing to be the same as southern cities then we will always be figured as lesser than, feeding deficit models of political and social life.
What does it mean for narratives and fortunes of Darwin to be so often be attached to the boom and bust cycles of 'hard infrastructure', particularly when undercurrents of 'soft infrastructure' (such as language, culture, community and creativity) often appear healthy and vibrant, but undervalued?
Part of what makes Darwin so special for those that live here is that it is not like other places. It does not share some of the characteristics that can come with big cities – traffic jams, anonymity, insularity – and is in many ways constituted as much by its various hinterlands as the city itself. Maybe there is value in embracing 'failing' – but just in less destructive and unequal ways?
We are repeatedly told Darwin is a town of transience and transients. Brilliant young minds come, do their expat stint for a few years, and leave. But the flip side seems to be a stubborn parochialism – Darwin's politicians' key credentials often seem to rest almost solely on being 'born and bred' in the Northern Territory. How we might we work better with established knowledges and new ideas?
With 308 days a year projected to reach temperatures of over 35 degrees in the coming decades, Associate Professor Peter Christoff, at Melbourne University, has said Darwin will be unlike any place on earth with the effects of climate change. Should we all just get real and pack up and leave? What hope is there here?
At the end of the night, while we were enjoying the delicious home-made hummus provided by the Bat as part of the event, a participant quipped to me how unique this event was – you would not likely be sitting around asking: 'How do we get people to stay and live in Melbourne?' One could find this deeply depressing, a reminder of the constant transience of Darwin. Conversely, we could think of the discussions on the night as a real privilege – to sit in a room with bright minds, discussing our future. To live here is to be mindful of why we do and why we want to. It is not a mistake or a given to commit to the Northern Territory; it is an active, exciting choice.